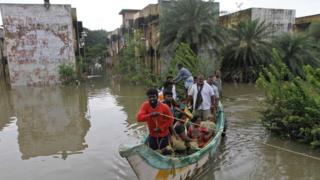 Floods cause chaos in India
Major floods are causing chaos for millions of people in India.
In Chennai, one of the biggest cities in India, schools and colleges have been shut, hospitals evacuated and power supplies are down.
Boats have taken to the streets as the army, police and local people try to rescue others from their water-filled homes.
Some have taken to social media to try and help, offering places to stay, food and mobile phone re-charges to people in need.