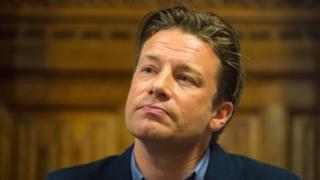 'Show age ratings on energy drinks'
Famous chef Jamie Oliver says energy drinks should have age ratings displayed on the front of them as part of plans to stop children putting on too much weight.
The celebrity chef, who owns several restaurants and once campaigned for a change to school dinners, also says sugary drinks should be made more expensive to stop people drinking so many of them.
He was asked to speak at a special meeting to discuss a new report about the number of kids who are overweight when they leave school.
One suggestion in the report, being considered by UK politicians, is to introduce a tax on fizzy drinks.
The report suggests that sugary drink adverts on TV and online should be more strongly managed.
Representatives from big food and drinks companies, have said that putting a tax on sugary drinks would be unfair.
The government will be setting out its plans to help combat obesity in children early next year, but it said that the sugar tax is not something they are keen on.
Watch what Jamie Oliver had to say about energy drinks, and a sugar tax, here.
You can find out more about