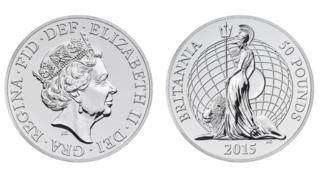 PA
A special £50 coin has been created to help celebrate the Queen becoming the UK's longest reigning Monarch.
Earlier this year the Queen smashed the record for reigning for more than 63 years and 216 days.
The silver coin has been made by the Royal Mint, who make all of the UK's money.
This is the first time they have made a £50 coin which also has a face value of the same amount.
The coin features the latest portrait of the Queen and a picture of Britannia, a lady who since ancient Roman times has represented the UK.