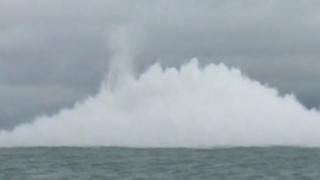 World War Two mine blown up underwater
A Royal Navy bomb disposal team have carried out a controlled explosion on a World War Two mine off the Isle of Wight in the English Channel.
The powerful mine, believed to have been dropped from a German aircraft, was dragged up from the seabed by a dredger on Thursday.
It was towed by navy clearance divers to a detonation site and destroyed.
The explosion created a tower of water about 300 metres high.