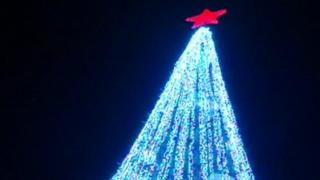 Half a million lights set Christmas tree record
An Australian man has set a new world record for the most lights on an artificial Christmas tree.
David Richards lit up the tree in Canberra, with a grand total of 518,838 twinkling lights.
The 22-metre tall tree was topped with a large star filled with 12,000 glowing bulbs.
Mr. Richards broke the record that had been held for five years by Universal Studios in Osaka, Japan.