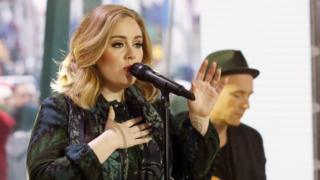 NBC/AP
Adele's new album 25 has sold more than 800,000 copies in its first week of release - the highest ever figure for a single UK chart week.
The album sold more copies than the next 86 albums in the chart added together, and has become the first album to sell more than 100,000 downloads in a week.
Official Charts Company boss Martin Talbot said: "No album has ever sold 800,000 copies to reach number one in the history of British music."
"More records will be toppled as Adele fever grips the nation in the run-up to Christmas," he added.
The previous record was held by Manchester band Oasis. Their album Be Here Now reached number one with sales of 696,000 in 1997.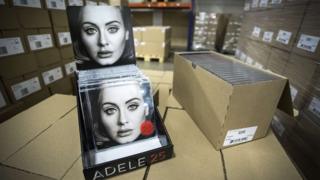 AFP
Adele's record-breaking sales
Before this, no album had sold 100,000 copies in a single week this year. Adele's 25 has sold 800,307.

That is more than the sales of the last 19 number one albums added together in the weeks they topped the chart.

More than 300,000 people bought 25 on its first day of release.

Ed Sheeran held the previous record for weekly download album sales, with 95,709. Adele's 25 has smashed that with 252,423 downloads.

It still has some way to go to match the sales of Adele's last album 21, which is owned by 4.8 million people in the UK.

Adele's third album has also sold more than three million copies in one week in the US. That is the highest one-week US sales since records began in 1991.