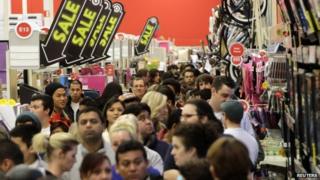 Reuters
Traditionally Black Friday was the name given to the day after the American holiday of Thanksgiving, when shops in the US drop their prices for 24 hours.
It was designed by shops and other retailers to encourage people to spend money in the run-up to Christmas - and it's usually the year's busiest shopping day there.
Shoppers queue up, sometimes for days, to get their hands on a bargain.
Why have UK shops started doing it?
Over the last few years shops in the UK have started to copy America because they've realised it's a way to get people to spend a lot of money all at once.
Some stores open at midnight, and others have offers on all week.
Shops can be so busy that their websites crash and people argue over items they want to buy.
Why is it called 'Black Friday'?
It's called Black Friday because it's often the day that many stores move into the black - which means they start making more money than they have to spend.