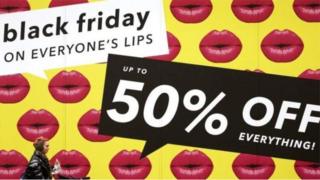 Getty Images
You may have noticed signs and adverts online and in shops talking about Black Friday offers.
But do you know what it means and why it's happening?
Well, Black Friday - the day that shops promote special offers - was the name given to the event when it was set up in America.
Traditionally it's always started the day after the American holiday of Thanksgiving, when shops in the US drop their prices for 24 hours.
In 2019, Black Friday is on 29 November.
It was designed by shops and other retailers to encourage people to start splashing the cash in the run-up to Christmas - and it's usually one of the busiest shopping days of the year.
Shoppers queue up, sometimes for days, to get their hands on a bargain.
It's called Black Friday because it's often the day that many stores move into the black - which means they start making more money than they have to spend.
Why have UK shops started doing it?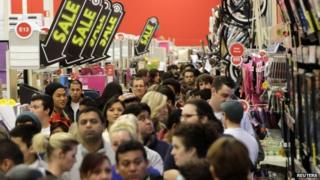 Reuters
Over the last few years shops in the UK have started to copy America because they've realised it's a way to get people to spend a lot of money all at once.
Some stores open at midnight, and others have offers on all week - and sometimes even longer!
What do people think about it?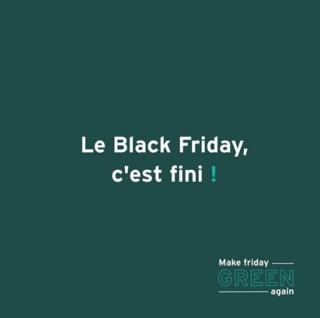 faguo/instagram
Some eco-campaigners say Black Friday is bad for the environment as it encourages people to buy things they don't need.
One campaign called "Make Friday Green Again" is encouraging people to check what items they already have in their wardrobes that can be recycled or reused instead of buying things they may not need.
Also, when it comes to bargains, not everything is always what it seems.
In 2019 the consumer group Which? has complained that many so-called deals are for items that are available cheaper, or for the same price, at other times during the year.
Natalie Hitchins from the group said that shoppers should do research and never impulse buy.
Sales can be a good opportunity to bag a bargain, but don't fall for the pressure tactics around Black Friday.
While some shops love Black Friday, not everyone thinks it is a good idea and it often doesn't run smoothly. Sometimes shops can be so busy that you have to queue to get in, websites can crash and sometimes people argue and fight over items they want to buy!
Critics say events like this are often better for big shops who have loads to sell but it can be difficult for smaller shops to cut prices as much. Because Black Friday gets so much publicity customers expect everyone to offer bargains and not all shops can afford it.