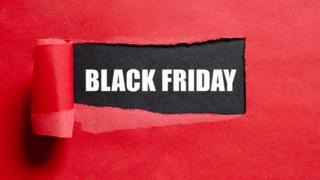 Anna Blazhuk
You may have noticed signs and adverts online and in shops talking about Black Friday offers.
But do you know what it means and why it's happening?
Well, Black Friday is a day where shoppers can buy some items at a much lower price for 24 hours.
The day originally started in the United States all the way back in 1952 and was set on the first Friday that followed Thanksgiving Day.
In 2021, Black Friday is on 26 November.
It was designed by shops and other retailers to encourage people to start spending in the run-up to Christmas - and it's usually one of the busiest shopping days of the year.
This year, experts predict more than half of adults in the UK will buy something on Black Friday, spending an average of £280 each.
There's lots of debate on how Black Friday got its name.
Some say it is named after a big financial crash in Wall Street in New York in 1869. While others claim it comes from most stores moving into the 'black'. That's a term that means shops make more money than they need to spend, so they can offer products for a lower price.
Why have UK shops started doing it?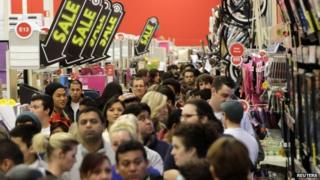 Reuters
Over the last few years, shops in the UK have started to copy America because they've realised it's a way to get people to spend a lot of money all at once.
Some stores open at midnight, and others have offers on all week - and sometimes even longer!
What do people think about it?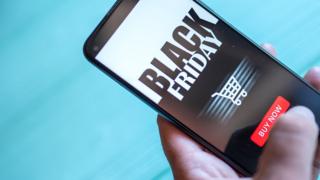 LEREXIS
Some eco-campaigners say Black Friday is bad for the environment as it encourages people to buy things they don't need.
A 2019 report from the Green Alliance charity found that 80 per cent of everything bought during the Black Friday bonanza ends up getting thrown away shortly after purchase.
Also, when it comes to bargains, not everything is always what it seems.
Campaign group Which? said that nearly nine in 10 products sold on Black Friday are available for the same price or cheaper earlier in the year.
Sales can be a good opportunity to bag a bargain, but don't fall for the pressure tactics around Black Friday.
While some shops love Black Friday, not everyone thinks it is a good idea and it often doesn't run smoothly.
Sometimes shops can be so busy that you have to queue to get in, websites can crash and sometimes people argue and fight over items they want to buy.
Critics say events like this are often better for big shops who have loads to sell but it can be difficult for smaller shops to cut prices as much. As Black Friday gets so much publicity, customers expect everyone to offer bargains and not all shops can afford it.
So, we want to hear what you think about Black Friday. Let us know in the comments?