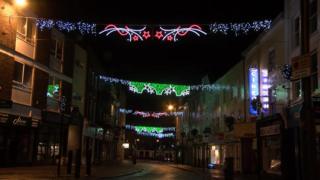 The festive decorations, in Tiverton, Devon, were picked because the town's Christmas committee said they "liked the shapes".
But since the lights have been switched on, people have noticed they look a bit like giant sparkly pants on a washing line, and they've got a lot of people talking.
One committee member, Sue Griggs, said: "They're Father Christmas's sparkly pants and they're great."
THIS CHAT IS NOW CLOSED. THANKS FOR YOUR COMMENTS
"Our Christmas lights are amazing. There are lots of strings of coloured bulbs. They run the whole way down out high street on both sides. Trees are also decorated and so is St. Peter's Church. There are mini Christmas trees on each shop that are also lit. It is great!"
Thomas, Portishead, Somerset, England
"I love my Christmas lights because they light up the outside and inside of my house."
Jessica, London, England
"I love the Christmas lights because they are so colourful and I love all the design's and decorations. It makes me feel warm and fuzzy!"
Ashleigh
"Our lights are really nice."
Fraser, Linlithgow, Scotland