Thanksgiving is a holiday celebrated in America every year on the fourth Thursday in November. In 2021, it's taking place on Thursday 25 November.
After the pandemic meant last year's celebrations were much smaller, for many families it's going to be a chance to get together and to have something close to the usual celebration - involving family gatherings and parades.
Many people use it as a day to reflect on the positive things in life and spend time with their families.
Nearly everyone gets one or two days off school or work, and it marks the beginning of the Christmas holiday season
What's the history of Thanksgiving?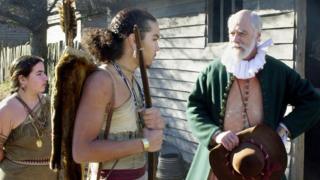 Getty Images
Thanksgiving Day goes back to the time when Europeans went to start new lives in America.
In 1621 a group of Europeans, who became known as the 'Pilgrims', invited the local Native Americans to join them in a feast.
The Pilgrims had had trouble growing enough food to eat in the years before. The Native Americans had taught them how to grow crops successfully and, according to the story, to thank them for this, the Pilgrims invited them to a big feast.
Unfortunately good relations between Native Americans and pilgrims did not last long and violence between European settlers and Native Americans increased and led to many years of conflict.
How do people celebrate?
Most people have a big meal with all their family where they eat a massive Turkey - this has become a tradition because it's thought that the Pilgrims probably ate turkey around the time of the first Thanksgiving feast.
But if turkey's not your thing, there are lots of other events to celebrate Thanksgiving.
There's a famous parade through New York City, lots of American football matches on the TV and the American president even stops one turkey every year from becoming Thanksgiving dinner.