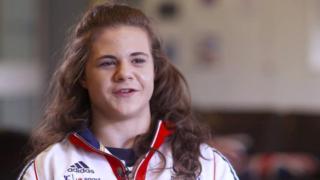 NR meets Rio 2016 hopeful Rebekah Tiler
With less than year to go until the Olympics games, many sports are close to choosing their teams to take to Rio.
One person hoping to make the team is 16-year-old Rebekah Tiler.
She will compete as the youngest member of the GB team in the senior world weightlifting championships in the USA in November.
Rebekah started the sport when she was just 12-years-old after it was suggested that she try weight lifting because she was so strong.
BBC Olympic sport reporter Nick Hope went to meet her.