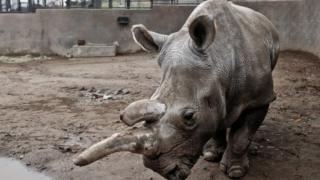 AP
An extremely rare northern white rhino has died in the US, leaving only three others in the world.
The 41-year-old rhino, Nola, died after surgery to her hip at San Diego Zoo.
Nola's death means that there are only three other northern white rhinos in the world.
They live in Kenya and are kept closely guarded.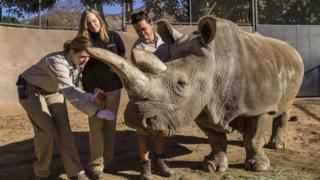 Reuters
Poachers have been blamed for the devastating drop in northern white rhino numbers.
They kill many rhinos to get their horns, which are worth a lot of money in some cultures.
However, there is hope that there may be more northern white rhinos born in the future.
San Diego Zoo has recently brought in six southern white rhinos, hoping to use them as mothers to new northern white rhino calves.
Zoo researchers are still working out if it's possible, but they say they're hopeful that a northern white rhino calf could be born within 10 to 15 years.