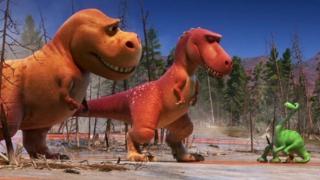 The making of The Good Dinosaur
The Good Dinosaur is the next Disney Pixar animation to hit the big screens this Friday.
It tells the story of young dinosaur Arlo who has lots of fears. But with the help of a new friend he goes on a journey where he learns to be more brave and becomes stronger.
The film's director, Peter Sohn, has worked as a writer and animator but has never directed a full length film before.
He was the voice of Squishy in Monsters University and the character of Russell in UP was even based on Peter's face.
Martin has been speaking to Peter to find out more about The Good Dinosaur and what it was like making the movie.