One Direction picked up the top award at the American Music Awards winning the Artist of the Year award for the second year in a row.
They also won best group even though they're due to take a break next year.
"Wow, this is incredible, to win two years in a row. It's a testament to how incredible our fans are so thank you, thank you, thank you," said Louis Tomlinson.
Liam Payne added: "We can't believe we get to win awards like this."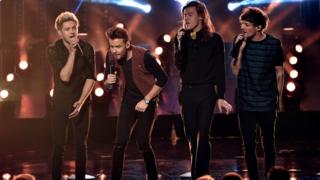 Getty Images
The boys thanked their families and their fans for all of their support over the past five years.
They also performed their new single called Perfect.
Taylor Swift was the biggest winner of the night winning three awards including, Song of the Year, for Blank Space.