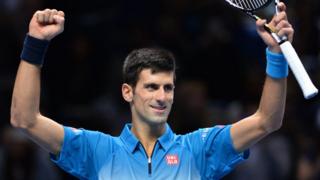 AFP
World number one tennis player Novak Djokovic finished his season by winning the ATP World Tour Finals in London.
He's become the first player ever to win this final tournament of the season four times in a row.
Djokovic beat Roger Federer in straight sets, 6-3, 6-4.
He described his performances, "as close to perfection as it can get".
This year he's won 11 tournaments and three Grand Slams.
"It's been a great year with many highlights. If I can, I would pick obviously Grand Slam wins, especially the Wimbledon and US Open. I think this tournament, as well," he said.
The result also means that Andy Murray ends the season as world number two ahead of Roger Federer.