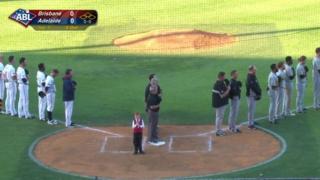 Boy gets hiccups singing national anthem
A boy in Australia had to battle through a case of the hiccups whilst performing the Australian national anthem.
Seven-year-old Ethan was performing the song before an Australian Baseball League match between the Brisbane Bandits and the Adelaide Bite.
At the end of the performance, the crowd in the stadium gave him a huge round of applause.
He then ran around the pitch getting high fives from all the baseball players.
Video courtesy of the Australian Baseball League.