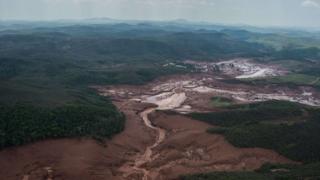 Toxic mud spill reaches ocean
A wave of toxic mud travelling down a river in Brazil has reached the Atlantic Ocean.
The mud has come from a collapsed dam and there are worries the orange sludge could cause severe pollution.
Barriers have been put up to try to protect plants and animals from the mud.
The waste has travelled more than 310 miles since the dam at an iron mine collapsed two weeks ago.
The company who owns the mine, has insisted the sludge is harmless.