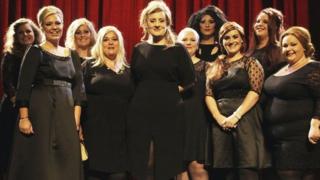 Adele 'auditions' to be Adele impersonator
Adele has 'auditioned' for the role of herself, in a sketch set up to fool a group of Adele impersonators.
The Adele impersonators think they are auditioning to take part in an Adele tribute show for the BBC, but they don't know the real Adele is also amongst them, in disguise.
Instead of calling herself Adele, she pretended to be called Jenny and even had a fake prosthetic nose put on, so she wouldn't look like herself.
But when the fake 'Jenny' starts singing, it doesn't take them too long to realise something is not quite right.
The sketch was all set up for a BBC programme about Adele.