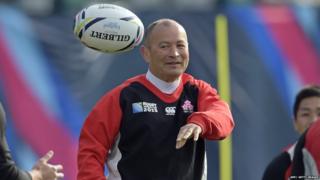 AFP/ getty images
Australian Eddie Jones has been named the new head coach of the England rugby team but some people have complained that the job should only go to an Englishman.
Jones has signed a four-year deal and will start his new job in December.
He replaces Stuart Lancaster in the job after England's failed Rugby World Cup campaign this year.
"Desperate"
But former Australian captain David Campese says that opting for a foreign coach shows that England are "desperate".
He said: "Don't you want an Englishman to coach an English team and win the World Cup?"
But former England captain Lewis Moody has said England should get the best coach available, regardless of where they come from.
THIS CHAT PAGE IS NOW CLOSED. THANKS FOR YOUR COMMENTS.
Your comments
I think having Eddie Jones as England coach will promote English rugby.
You must ask your parent, teacher or guardian for permission before you send us a comment.
We may show your comment on our website or in our TV bulletins. We'll show your first name and which town you're from - but we won't use your details for anything else.