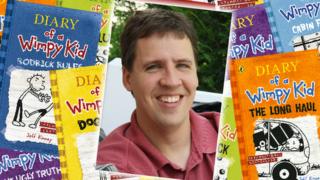 Jeff Kinney, author of the Diary of a Wimpy Kid series will be visiting the Newsround studio!
Based on character Greg Heffley, the books follow him through his life at school and on adventures with his friends and family.
Jeff first came up with the idea for Diary of a Wimpy Kid in 1998 but it wasn't until six years later, that it was first published online.
Now his books have sold more than 150 million copies around the world.
He has just released the tenth book in the Wimpy series, and we want you to send us your questions for Jeff.
This chat is now closed, thank you for sending in all of your brilliant questions!