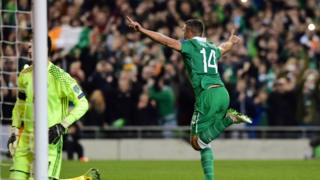 Getty Images
The Republic of Ireland will be taking part in Euro 2016 after beating Bosnia-Herzegovina in the play-offs.
They join England, Northern Ireland and Wales who had already qualified.
Stoke striker Jon Walters scored twice to beat Bosnia-Herzegovina 2-0 on the night. It meant the Irish won 3-1 over two matches.
Manager Martin O'Neill said, "I'm thrilled, thrilled for myself naturally, rather selfishly if that's the case.
"But I'm thrilled for the players because they have put heart and soul into the games."
Euro 2016 will be held in France.