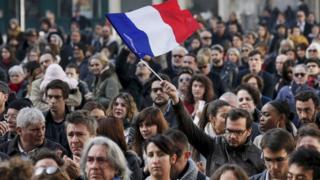 Europe falls silent to show support for Paris
People across Europe took part in a minute's silence to show their support for people affected by Friday's attacks in Paris, France.
Many have continued to lay flowers or light candles around the French capital.
France was shocked when it's capital city was attacked on Friday night.
More than 120 people lost their lives and the French police and army were called in to help keep people safe.
The radical Islamist group that calls itself Islamic State has said that it carried out the attacks.
IS are an extremist group based mainly in Syria and Iraq.
Jenny sent this report from Paris.