The whole of Europe has stood in silence for one minute as a show of support to the people of Paris, France.
The French president, Francois Hollande, stood in a crowd of students in Paris at Sorbonne university.
Across the French capital people paid their respects.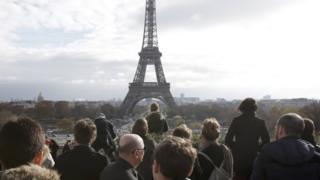 Reuters
In Berlin, in Germany, people gathered outside the French Embassy building.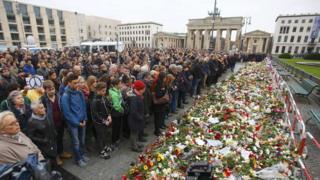 Reuters
Throughout the weekend, people around the world have been gathering in towns and cities lighting candles and leaving messages.
France was shocked when it's capital city was attacked on Friday night.
More than 120 people lost their lives and the French police and army were called in to help keep people safe.
The radical Islamist group that calls itself Islamic State has said that it carried out the attacks.
IS are an extremist group based mainly in Syria and Iraq.
There are lots of problems and fighting in Syria and Iraq.
One cause is the difference between two groups - Sunnis and Shias - who both follow the religion of Islam.
World leaders have been offering their support to France.
The British Prime Minister David Cameron said, "Our thoughts and prayers are with the French people. We will do whatever we can to help."
Over the weekend sports fans and players also stopped to show their respect to Paris.
A minute's silence was held at the World ATP tennis finals in London on Sunday.
England players also stood in silence during their training session on Monday morning.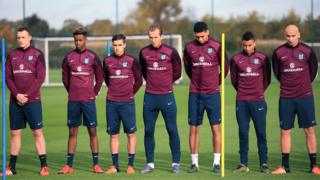 AP
England are due to play France in a friendly match on Tuesday November 17th.