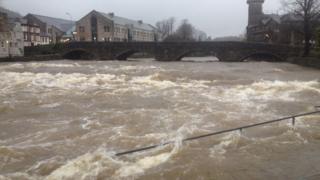 PA
Heavy rain has caused flooding in parts of northern England with parts of Cumbria and Yorkshire badly affected.
Many rivers have burst their banks causing problems to roads, railway lines and farmland.
Cumbria is one of the worst hit areas with drivers being told to stay indoors because of the amount of water on the roads.
The RSPCA sent a specialist water rescue team to the north-west of England.
A horse called Beau was rescued from a flooded field in Burneside, near Kendal in Cumbria.
Chief Inspector Mark Gent, said: "Beau was on an island of dry land in a flooded field, he was surrounded by a fast flowing river on one side and a pool of knee deep water."
Beau was eventually taken to a another field and reunited with his friend Bomber.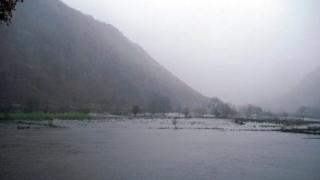 VisitBorrowdale
Some schools have stayed closed because of the flooding.
The heavy rain and strong winds are expected to move north into Scotland.