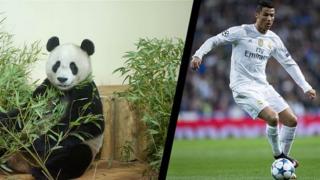 Naughty panda stays up after bedtime
Take a look at giant panda, Yang Guang, having a ball of a time.
The panda, who lives in Edinburgh Zoo, was spotted by his keepers playing with a large ball in his sleeping den after the lights had already gone out for night time.
Yang Guang obviously fancies himself as a bit of a Cristiano Ronaldo, as he kicks the ball around the room.
He even scores a goal as he gets the ball through the door and has to run outside to get it back!
Alison Maclean, who looks after the pandas at Edinburgh Zoo, said: "The footage of Yang Guang playing with the ball is fantastic. The new toy must have caught his imagination and it looks like he thoroughly enjoyed his kick about."