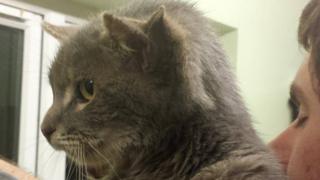 Feline Care Cat Rescue
A three-eared cat has been rescued, after it was found wandering in Norfolk.
Rescuers discovered the cat near a garage on Monday and were surprised to find the feline was quite unique.
The moggy was taken to a nearby cat rescue centre where it was checked over by a vet.
Molly Farrar who runs the centre said "we see plenty of cats but this is something quite special, it's obviously a really rare thing as our vet hasn't seen it before."
Staff at the centre floated a number of names for the special kitty, but eventually settled on Brian, after the owner of the garage where he was found.
Brian, who is thought to be between four and eight years old, is in good health and will be kept at the centre while they try to find his owner.
If Brian's owner cannot be found, he will be re-homed, Ms Farrar said.