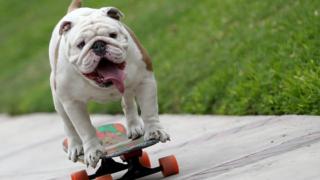 Skateboarding bulldog breaks record
A bulldog called Otto has broken the Guinness World Record for skateboarding through the 'longest human tunnel'.
The three-year-old pooch passed through the legs of 30 people.
He was cheered on by a huge crowd of people who watched the cute canine's record attempt in astonishment.
Otto was presented with an official certificate at the event which took place in Peru.