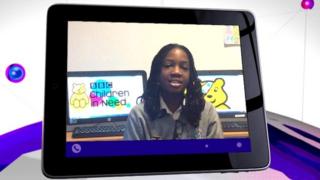 Chat: What are you doing for Children in Need?
Children in Need is back for its annual fundraising extravaganza on Friday 13 November.
The big night will be hosted by Sir Terry Wogan, who'll be joined by some amazing showbiz guests like Ellie Goulding, Selena Gomez and Jess Glynne.
Later, Shane Ritchie will be hosting a special show from EastEnders' famous Queen Vic pub in Albert Square.
Children in Need is all about raising money for the kids who need it most - and whether it's a cake sale, a sponsored silence or a dance-athon, we'd love to hear what you're doing to help, so send us your videos and photos and tell us your plans.
Send your pictures and comments to newsroundcomments@bbc.co.uk
You must ask your parent, teacher or guardian for permission before you send us a picture or video.
We may show your picture or video on our website or in our TV bulletins. We'll show your first name and which town you're from - but we won't use your details for anything else.