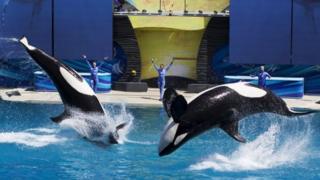 Reuters
SeaWorld, in the US state of California is to stop using killer whales in their shows.
The theme park's chief executive said that 2017 will be the last year of the orca show in San Diego.
The company has faced years of pressure from people demanding a ban on whales being used in performances.
A film called Black Fish also criticised SeaWorld for keeping whales in captivity and said the animals can be a danger to their trainers.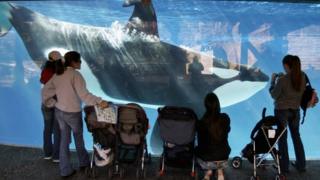 AP
SeaWorld say the documentary is inaccurate and misleading and say they carry out vital research with the mammals.
But campaigning has hit the park hard and there has been a fall in the number of people visiting the company's 11 parks across the US.
One Direction's Harry Styles also asked fans not to visit the parks at his concert in July.
Reuters
Dramatic displays by killer whales are the main feature at three parks operated by SeaWorld, in California, Florida and Texas.
But in October, Californian authorities said SeaWorld were no longer allowed to breed animals in captivity.
SeaWorld say they will now replace the orca shows at its park in California, with an experience that's more focussed on the creature's natural behaviours and environment.