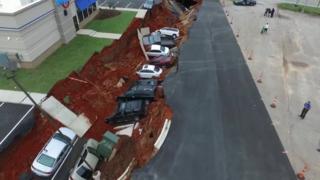 Giant US sinkhole swallows cars
Cars were swallowed up when a large sinkhole opened up in a restaurant car park, in Mississippi in America
Onlookers described how they were eating their meals when the lights suddenly went out and they heard a loud crash.
Tests are going to take place to find out why the ground opened up swallowing 12 cars.
The large hole measured 120m long and 11m wide.
Luckily no one was hurt.