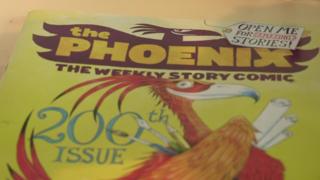 Phoenix Comic
The Phoenix comic is celebrating its 200th issue.
As a part of the celebrations, they are launching a competition to find a Young Phoenix Artist.
The young person who gets chosen will see their comic strip published in the magazine.
The 200th issue already has young Phoenix reader Jonny's comic strip inside.
Jonny has some top tips on how to be a good comic strip writer.
Jonny draws Ricky