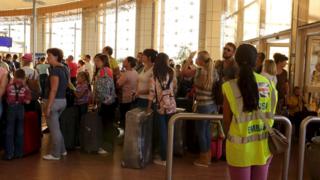 Reuters
Planes have starting bringing some of the British tourists stranded in the Egyptian holiday resort of Sharm el-Sheikh back to the UK.
All flights to and from the resort were stopped on Wednesday because the British government wanted to make sure the airport was as safe as possible.
The decision was made after a Russian plane crashed near there last weekend.
There are currently 20,000 British tourists on holiday in Sharm el-Sheikh.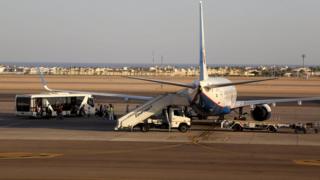 Reuters
Only eight out of 29 planned flights to bring British holiday makers back will operate.
Two planes have already taken off from the Egyptian resort, but it is unclear which others will be allowed to.
Egypt said this was because there was too much check-in luggage left at the airport.
British passengers are allowed to take only hand baggage on board with a plan in place to take suitcases and bigger bags on separate planes.
Russian President Vladimir Putin has now ordered that all Russian passenger flights to Egypt be stopped until the cause of the crash is established.