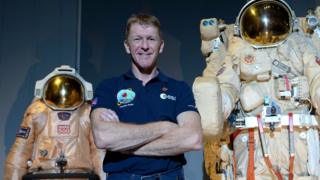 PA
Newsround is off to a special astronaut training base called Star City in Moscow, Russia, and we want your help for when we get there.
The team is going to see the final, high-tech, training that Britain's Tim Peake will be going through before he blasts off for the International Space Station.
He's preparing for a five-month mission where he will perform onboard experiments and orbit earth more than 2,700 times.
Hayley will be interviewing Tim at the training base and asked you to send in some questions for him to answer.

Your questions
How do you feel about being the first British astronaut to head to ISS? Jessica, London
What are you most looking forward to and most dreading about going to space? Maja, London
Will it be hard to spend Christmas away from your family? Libby, Coventry
Are you allowed to choose your own food or do you need to eat what is given to you? Nieve, Glasgow
What the best and worst things about zero gravity? Noah
How long does it take to plan your trip to Space? Max, Coventry
Where do you sleep? Finlay, Coventry
How were you first inspired to go to Space? Would you like to go to the moon? Liam, Glasgow
How long does it take to train to be an astronaut? Jack
How do you go to the toilet in space? Macey and Kyle
When did you first want to become an astronaut? Francesca
What do you eat and drink in space? Leo
You must ask your parent, teacher or guardian for permission before you send us a question.
We may show your question on our website or in our TV bulletins. We'll show your first name and which town you're from - but we won't use your details for anything else.