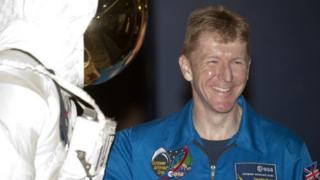 Tim Peake aiming to inspire next gen
Astronaut Tim Peake says he hopes becoming the first British man to board the International Space Station will inspire kids to follow in his footsteps.
He was speaking before flying out for the final stages of his training in Russia next week.
He said: "The legacy I hope is that this will inspire a new generation to look at science, to look at space, as an exciting career path, and to make choices that push them in that direction."
He will launch into space on 15 December and he will become the first British astronaut to live and work on the International Space Station.
BBC reporter Tim Muffett has been to find out how the mission has already started to get children across the country excited.
Take a look at his special report.
And you can