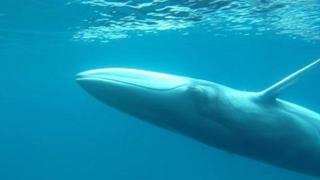 First moving images released of Omura's whales
A team of scientists have released images and detailed descriptions of a rare whale species, which has never been seen alive in photos or video.
The sightings are the first in the wild ever of Omura's whales.
So little is known about the Omura's that scientists are unsure of how many exist or how rare the species is.
The research was led by Dr. Salvatore Cerchio from the New England Aquarium and Woods Hole Oceanographic Institution, and a team of international whale biologists.
Pictures courtesy Cerchio et al. Royal Society Open Science