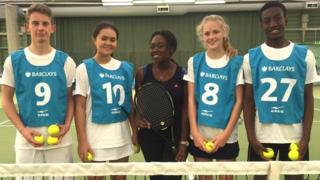 What does it take to be a ball kid?
The pressure's on for the world's top eight tennis players who will be battling it out at the ATP World Tour finals in London between 15-22 November 2015.
But they're not the only ones whose performance is being watched very closely.
30 boys and girls, known as ball kids, have been specially trained to be on court and around their edges during the biggest matches.
It's their job to keep the matches moving, making sure the players have enough balls, and that they get new ones quickly.
Ayshah went to a Barclays Ball Kids training camp in Southampton to see if she has what it takes to be one too.