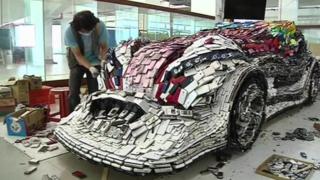 Artist builds car from old mobile phones
It's a car - and it's life size - but it's made totally from old mobile phones.
Taiwanese artist Lin Shih-Pao spent four months working on an unusual project.
He spent almost £20,000 to travel the world for four years collecting 25,000 mobile phones.
He says he wants to raise awareness about rubbish and waste and how we dispose of things.
He says his car shows how a pile of rubbish can be recycled and converted into a piece of modern art.