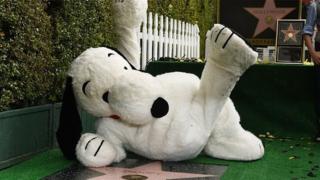 Snoopy's star on the walk of fame
What would it take to get your dog excited? Walkies or what about getting their own star on Hollywood the walk of fame?
The famous cartoon character Snoopy has just achieved that honour in Los Angeles, USA.
He first appeared in the comic strip Peanuts 65 years ago, which has been read by people in 75 countries around the world.
The Beagle has also stared in TV specials and films and a new movie about him is due out in December.
Snoopy joins a select club of cartoon characters with stars - such as Mickey Mouse, Bugs Bunny and Shrek.