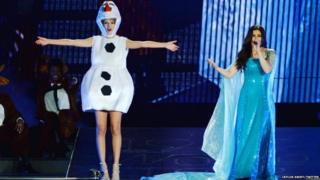 Taylor Swift/Twitter
Taylor Swift has been showing she knows how to have "Olaf" on stage.
The singer came on as Frozen's snowman Olaf to sing her song 'Style' during the final concert of her American tour.
She even had reindeer dancers.
Taylor then surprised fans by bringing on actress Idina Menzel, the voice of Elsa, to sing Let It Go with her.
"I just wish that Idina Menzel was here, dressed as Elsa to sing Let It Go," Taylor teased the audience.
"It's a good thing she is!"
Getting her friends on for a duet has become a bit of a thing for Taylor during her concerts.
She's been joined by dozens of celebrity mates including Ellie Goulding, Selena Gomez and Justin Timberlake.