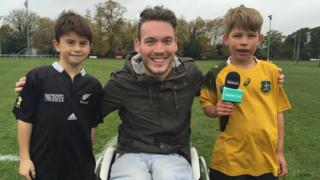 Rugby fans battle it out ahead of final
One of the biggest sporting events in England will take place on Saturday - the Rugby World Cup final.
Teams have been battling it out for weeks to see who will be crowned champion.
Australia take on current world champions New Zealand in a huge clash.
The favourites are the New Zealand All Blacks but the Australian Wallabies will be hoping for an upset.
Martin caught up with some young fans ahead of the match to get their thoughts.