The Chinese government have announced that they are going to end the laws which say that families are only allowed to have one child.
1.3 billion people live in China, more than any other country in the world.
The laws called "The One-Child Policy" were introduced in 1979 because the Chinese government were worried that their population was growing too fast.
It meant that right up to today, millions of Chinese children do not have brothers or sisters.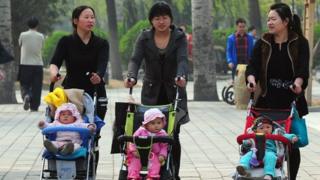 AFP/Getty
Parents who broke this law faced strict punishments including fines and even losing their jobs.
Some children in China disliked the rule because they said it put pressure on the one child in each family to do well.
Lots of other countries said that the policy was cruel and unfair.
Over the last few years the rules have been relaxed in some areas as the Chinese government became worried there might be not enough young people to look after the old in the future.
The law now says that parents are allowed to have two children in all areas.