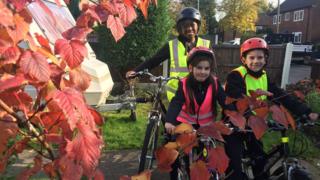 NR own
How do you get to school every morning? Do you grab a lift with your parents, hop on the bus or even walk with your friends?
According to one charity, Sustrans, not many of you are cycling.
They found that only four out of every 100 children in the UK cycle to school.
Children feel some roads aren't safe enough.
They complain there are too many cars, dustbins, corners, narrow alleyways and other obstacles in their way.
They want better lighting, more cycle lanes and more islands in the middle of the road to make it easier to cross.
The Government, schools and charities are now looking at more ways to make cycling routes safer so more children have the confidence to get on their bike.
The Department of Transport say that it is illegal for anyone to cycle on the pavement.
So have you got any ideas of how to get more children cycling to school? We want to hear from you.
This chat page is now closed. Thank you for sending in your comments.
Your Comments:
I cycle to school everyday and I don't like it when the cars come too close to me, I want them to go further out when they overtake me.
Arther, 8, Wales
I ride to school most days on roads with my mum and brother and it is fairly safe, I think most speed limits in towns should be 20 mph.
Michael, 10, Liverpool
I think there should be roads for cycling only and maybe kids should sill have to pass a cycling safety test.
Aisha, 11, Birmingham
I think there should be bigger roads and cycle paths pretty much everywhere.
Sophia, Leeds
We can't cycle to school unless we pass Cycling Proficiency level 2.
Tom, 10, Southampton
If the councils made paths just for cyclists and if the cycle paths were not on the road but on half of the pavement, I would love to cycle to school but I don't feel safe enough to as cars just pull out and don't stop.
Jack, 10, Nottingham
I think there should be wider roads so that there is more space for kids to cycle to school.
Louise, 10, London