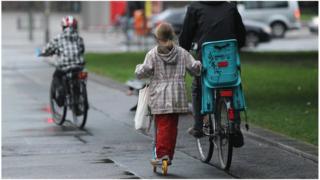 Top tips for safer cycling
Lucia and Michael cycle to school every day.
But new figures suggest only four out of every 100 children get on their bikes in the UK to get to school every day.
The charity Sustrans says many children think roads are unsafe.
They want wider pavements, more road islands and more cycle lanes to help make it safer for people to cycle.
Lucia and Michael give you their top tips for cycling safely.
1. Make sure you wear a helmet
2. Don't go too fast
3. Wear something bright so people can see you
4. Enjoy it!
The Department of Transport says that it is illegal for anyone to cycle on a pavement.