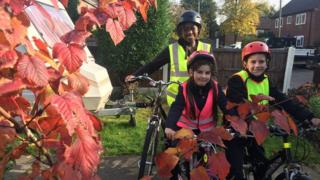 How do you get more kids cycling to school?
How do you get to school every morning? Do you grab a lift with your parents, hop on the bus or even walk with your friends?
According to one charity, Sustrans, not many of you are cycling.
They found that only four out of every 100 children in the UK cycle to school.
Children feel some roads aren't safe enough.
They complain there are too many cars, dustbins, corners, narrow alleyways and other obstacles in their way.
They want better lighting, more cycle lanes and more islands in the middle of the road to make it easier to cross.
The Government, schools and charities are now looking at more ways to make cycling routes safer so more children have the confidence to get on their bike.
So have you got any ideas of how to get more children cycling to school? We want to hear from you.
Send your comments to newsroundcomments@bbc.co.uk
You must ask your parent, teacher or guardian for permission before you send us a comment.
We may show your comment on our website or in our TV bulletins. We'll show your first name and which town you're from - but we won't use your details for anything else.