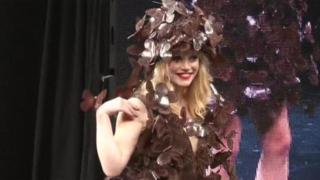 Chocolate clothes on catwalk
If you love chocolate check this out!
Models in Paris have taken to the catwalk dressed in clothes made entirely from chocolate.
The designs were made by stylists and famous chocolate makers called chocolatiers.
They were worried their creations might melt under the bright lights. So they had to think of ways to keep the models cool.
They said it was one of their biggest challenges.