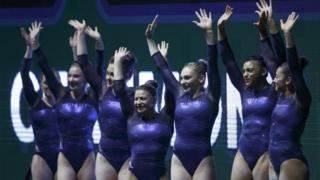 GB women gymnasts make history
Great Britain's women gymnasts have won their first ever, team final medal, by claiming bronze at the World Championships in Glasgow.
They have made history with their medal.
Three terrific vaults by Claudia Fragapane, Amy Tinkler and this one from Ellie Downie helped GB secure the bronze.
The United States won gold for their third consecutive women's team title, while China took silver.
Their previous World Championships best was fifth in Tokyo in 2011.
The men will compete later today in their team final and we'll update you later.