Rescue teams say they're struggling to reach people who may have been caught up in the earthquake which hit Afghanistan and Pakistan in South Asia.
Charities working in the area say thousands of people are in need of help.
Many survivors spent the night outside because they were too scared to go back into their homes.
In Pakistan the army is helping to get aid supplies to the mountainous areas of the country.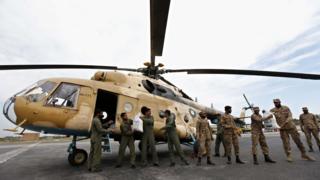 EPA
Landslides have made it harder for rescuers to reach those in need. It's thought thousands of people have been injured.
It's still very difficult to speak to people in the affected areas so it maybe a few days before it's clear how much damage has been caused.
The epicentre of the earthquake was around 200 kilometres underground in Afghanistan. It's thought that this has reduced the impact of the quake.
It measured 7.5 in magnitude and was even felt in neighbouring countries.
More than 300 people have died because of the quake.