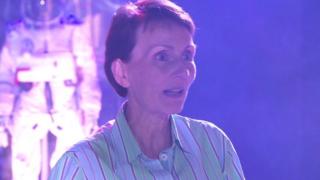 Helen Sharman talks about life in space
Next month Tim Peake will be the first British astronaut to go on an official mission to space.
But back in 1991 a British woman Helen Sharman also went to space.
It was after answering a radio advert and beating 13,000 applicants to take part in Project Juno, which was a Russian funded space mission. She spent 18 months training in Star City, 30km north-east of Moscow.
During her eight days in space, she carried out medical and agricultural experiments on the Soviet Mir space station.
Helen spoke to Dick and Dom about her space adventures.