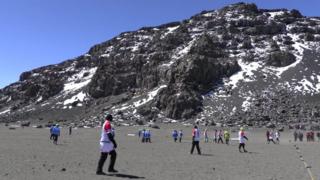 Rugby players attempt 'highest ever' match
A group of rugby league players climbed Mount Kilimanjaro, in Tanzania, as part of a charity challenge to stage the sport's highest ever match.
The group tackled Africa's highest peak to raise money for the Steve Prescott Foundation, in memory of the player who died two years ago from cancer.
The group - a mixture of professional players and charity supporters - reached a height of about 5,791 metres before playing the match.
They will now put forward the details of their attempt to Guinness World Records.