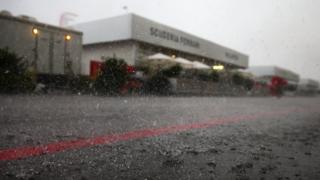 Getty Images
Heavy thunderstorms in Texas, USA may affect qualifying for the Formula One Grand Prix in Austin.
Hurricane Patricia is moving up through Mexico and storms and up to 30 centimetres of rain is forecasted to fall on Saturday.
If that is the case, qualifying could be postponed until Sunday.
Second practice at the Circuit of the Americas near Austin was cancelled as a result of the storms.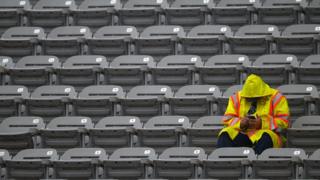 Getty Images
Ferrari's Sebastian Vettel said: "If it's like this, we can't run. It does not look good."
F1 officials have not yet made any specific plans because the weather forecast is changing so often.
Lewis Hamilton tops the driver's championship and needs to beat Sebastian Vettel by nine points and Rosberg by two to win the title this weekend - if the race goes ahead!