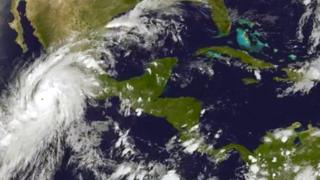 NOAA
Hurricane Patricia is a tropical storm, off the Pacific coast of Mexico, that has transformed into one of the most powerful hurricanes in history.
It is now a Category 5 storm, the most intense type of storm system ever recorded in the Eastern Pacific Ocean.
The hurricane is reported to be strengthening with continuous wind speeds of 200mph as it approaches the west coast of Mexico.
Homes have been evacuated before the storm arrives on Friday evening.
How did it go from tropical storm to hurricane?
Early warnings have already enabled authorities to begin getting people out of the areas that are likely to be affected and residents and emergency services in Mexico are rushing to prepare for the storm to hit.
It took weather experts by surprised after intensifying quickly overnight on Thursday. The wind speeds within the storm got faster and faster, reaching sustained speeds of 200 miles per hour and it also dropped lower in the sky, meaning it was updated to hurricane statuts.
It's expected the hurricane will cause a huge storm surge, flash floods and mud slides with potentially catastrophic damage.
What does Category 5 mean?
A category 5 hurricane is a storm capable of causing widespread destruction and this particular system is likely be the strongest hurricane to ever make landfall on Mexico's Pacific coastline.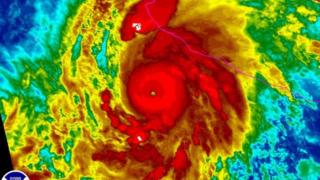 NOAA
Category 5 hurricanes have wind speeds of more than 157 mph that experts warn could cause total destruction of all structures near the shoreline where signs, trees and shrubs are almost certainly expected to be blown down or destroyed.
Only one Category 5 hurricane has ever been known to reach land on Mexico's Pacific coast, and that was back in October 1959.
Why is it a hurricane and not a typhoon?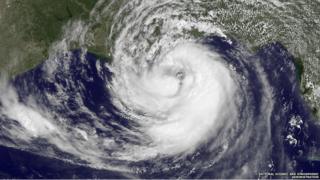 National Oceanic and Atmospheric Administration
Hurricanes, cyclones and typhoons are all tropical storms. They are all same but are given different names depending on where they appear.
Hurricanes are tropical storms that form over the North Atlantic Ocean and Northeast Pacific.
Cyclones are formed over the South Pacific and Indian Ocean.
Typhoons are formed over the Northwest Pacific Ocean.
Because this storm formed over the North Atlantic and East Pacific it was decided it was a hurricane.
Find out more with our special guide.